Project Description:
The purpose of this project is to develop an OpenCV + Python script to automatically score trap shooting competitions. In a trap shooting competition, five people stand around in a semi-circle. One at a time they yell "pull", which releases an orange clay disk out of the house at a random angle. They get one shot to try to hit the target. If the disk breaks, it counts as a hit. There is one score keeper that keeps track of each shooters' hits and misses.
Below is an example of such a trap shooting match: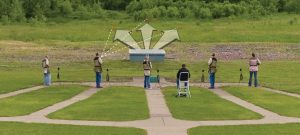 Project Goal:
The goal of this project is to detect if and how a shooter broke the target using OpenCV, Python, and a Raspberry Pi. The script should be able to detect when the trap is thrown followed by if the target is hit.
In my early attempts, I used Python to analyze a video clip and take a snapshot image before and after the sound of the gunshot. Then I analyzed the difference in pixels from the snapshots to determine if there was a hit (significantly less pixels or multiple chunks) or a miss (one big chunk, just slightly smaller in pixel size as the trap is travel farther away).
Below is an example of a "Hit Example" (a link to the input video can be found here):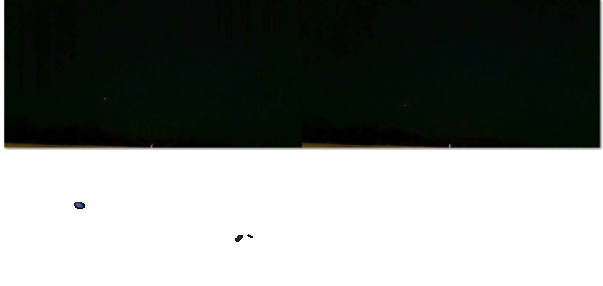 On the left we the intact trap is it is released. On the right we can see the trap has been hit, breaking it into multiple pieces.
A "Miss Example" can be seen below (original video here):
Notice how the targets are approximately the same size in both the left and right frames.
Initial Attempt
In my initial attempt to solve this problem, I ran into two problems:
I could never get the sound from the microphone to consistently sync with the Raspberry Pi camera module, therefore the before and after frames varied substantially.
If there were too many changes in the background (e.x., passing clouds or tree branches blowing in the wind), my script would falsely detect these regions as well.
For this project I need a more robust background subtraction/motion detection method that can accurately monitor for traps without false-positive detections.
You Should:
In order to be successful with this project, you should:
Have experience working with OpenCV + Python.
Have worked with the Raspberry Pi in previous projects and understand its hardware limitations.
Have successfully applied motion detection/background subtraction.
While ideal (but not required), it would be helpful if you:
Have worked with syncing multiple sensors (i.e., microphone + camera).
Understand trap shooting competitions.
Compensation:
Compensation will be based on experience and prior projects similar to this one.
To apply for this job:
Please click the "Apply to this Job" button below.
Anywhere